Third International conference on "Oral cancer, Oral Potentially Malignant Disorders, Smokeless Tobacco and Areca nut"
Peradeniya, Sri Lanka | 12 Jul 2019 to 14 Jul 2019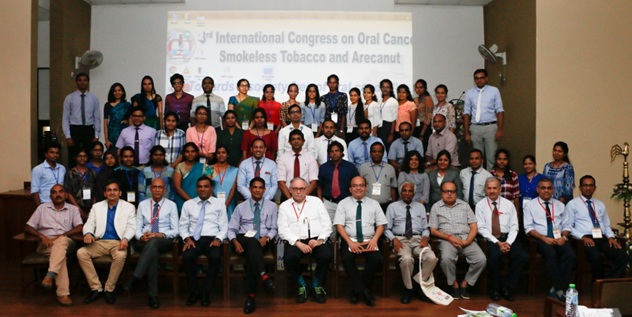 Name of Host : Centre for Research in Oral Cancer
Name of Institution : University of Peradeniya
URL of Institution : https://www.pdn.ac.lk/
Brief Summary :
Third international conference on "oral cancer, oral potentially malignant disorders, smokeless tobacco and areca nut" organized by the Centre for Research in Oral Cancer (CROC) was successfully completed at Faculty of Dental Sciences. This event was jointly organized by the Centre for Research in Oral Cancer, Faculty of Dental Sciences, University of Peradeniya, Ministry of Health, SLT project committee of the National Authority on Tobacco and Alcohol (NATA) and Presidential Task Force on Drug Prevention.
First pre conference workshop was held on the 12th on the topic of Smokeless Tobacco and Areca nut control in Sri Lanka. This workshop was conducted with the participation of all stake holders and a strategic plan was discussed and finalized. Second workshop on Imaging and diagnostic aids in the management of Oral cancer and OPMD was held on the same day.
The well-organized scientific session covered epidemiology of OPMD and oral cancer, preventive strategies, clinical presentation of them, surgical management and palliative care and future research prospects. Scientific forum was enlightened by national and international resource persons. There was a good participation ranging from experience surgeons, consultants, post graduates of all disciplines and undergraduate dental students.The conference was well received by all participants.
Media Coverage :
URL of the event : https://www.pdn.ac.lk/news/24072019/