DENTAL SURGEONS THE MOST IMPORTANT PROGNOSTIC FACTOR FOR HEAD AND NECK CANCERS
Faridabad, India | 26 Jul 2020 to 26 Jul 2020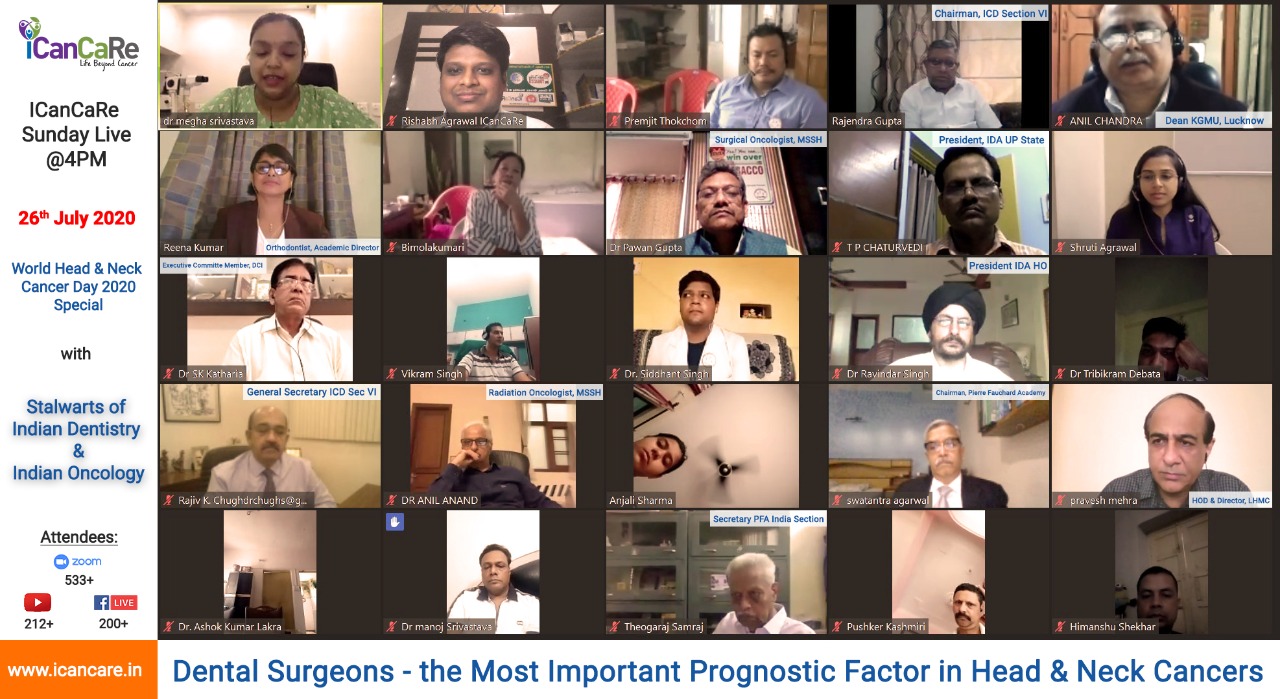 Name of Host : Dr Pawan Gupta
Name of Institution : Innovative Cancer Care and Rehabilitation
URL of Institution : http://www.icancare.in
Brief Summary :
On the eve of World Head and Neck Cancer Day, 26th July 2020, Innovative Cancer Care and Rehabilitation invites Chairman, President, and Secretary from the renowned and established Dental Bodies of India to unite together and fight against cancer to win over it! We proudly invite Honourable President, Secretary, Chairman, and Executive Committee Members from
1) Indian Dental Association (IDA)
2) Dental Council of India (DCI)
3) International College of Dentists Section VI (ICD Section VI)
4) Pierre Fauchard Academy (PFA) India Section
to ICanCaRe Sunday Live on 26th July 2020 4-6 PM to share their rich experience and unite together to win over cancer!
*DENTAL SURGEON THE MOST IMPORTANT PROGNOSTIC FACTORS FOR HEAD AND NECK CANCERS*
Don't miss this opportunity. Register here: www.icancare.in/forms/webinar/sundaylive
Download
www.app.icancare.in
YouTube Live Link:
https://youtu.be/y3vxVDj0880
Facebook Live Link:
https://www.facebook.com/icancare.org/posts/2204194686392614
Zoom Link:
https://us02web.zoom.us/j/89303169286?pwd=eWpwdjNqZmhaMDRpMDNvNjl3T3BXUT09
Meeting ID: 893 0316 9286
Password: icancare
E certificate to all
Media Coverage :
Interaction with Stalwarts of Indian Dentistry & Oncology on a Unified Platform of ICanCaRe Sunday Live @4 PM - DENTAL SURGEON THE MOST IMPORTANT PROGNOSTIC FACTORS FOR HEAD AND NECK CANCERS
It was also an opportunity to award the 4th Batch of Certified Tobacco Cessation Specialists by the Gujarat University. Dr. Rakesh Rawal, Coordinator of the Course from Gujarat University, Dr. Pawan Gupta Course Convenor, Dr. Reena Kumar Course Director handed over the Certificates to the successful Candidates.
The program was conducted by Dr Reena Kumar, Shruti A Jain and Dr Megha Srivastava.
The program had 553 attendees on zoom and many on FB and Youtube LIVE.
URL of the event : https://youtu.be/y3vxVDj0880