Mahamana Case Discussion Series
Varanasi, India | 27 Jul 2023 to 27 Jul 2023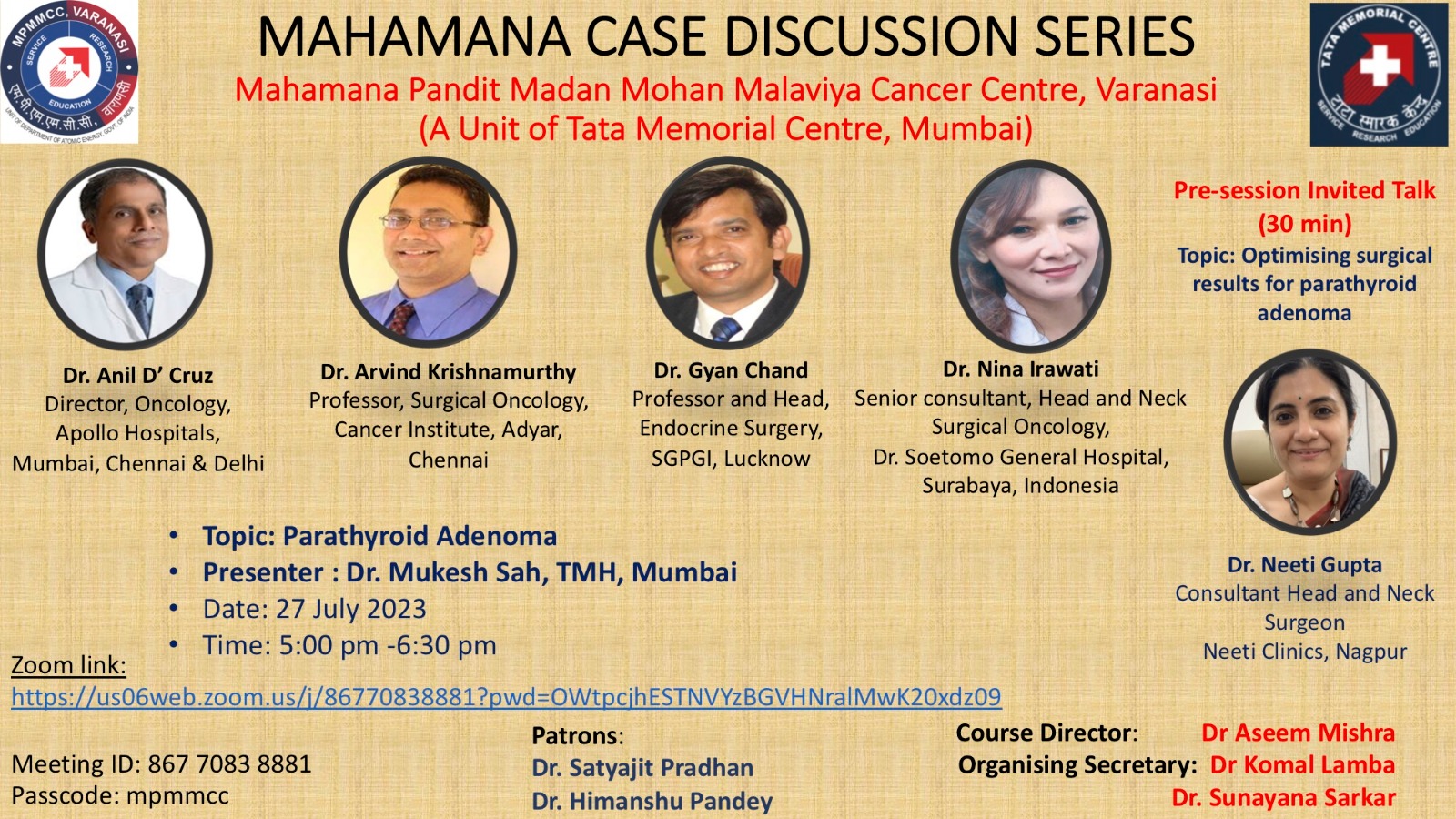 Name of Host : Dr Aseem Mishra
Name of Institution : Mahamana Pandit Madan Mohan Malviya Cancer Centre & Tata Memorial Centre
URL of Institution :
Brief Summary :
Mahamana Case Discussion Series is an Academic Program run by Mahamana pandit Madan Mohan Malviya cancer Centre & Tata Memorial centre Varanasi. Focussed towards empowering Residents and fellows in Head and Neck Surgery. It is organized every fortnightly on Thursday evening between 5.00 to 7.00 PM. It is attended by around 70 to 100 residents and fellows across India.
On the Occasion of World Head and Neck cancer Day 2023 we had the meeting on Parathyroid Adenoma.
The Invited talk was on "Optimizing Surgical results for Parathyroid adenoma" by Dr Neeti Gupta (Consultant Head and Neck Surgeon Neeti Clinics, Nagpur, India.
The case presentation was done by a resident from TMH, Mumbai and the Moderators for case discussion were Dr Anil D'Cruz (Director Oncology Apollo Hospitals, Mumbai. Dr Arvind Krishnamurthy Professor Surgical Oncology Cancer Institute Adyar, Chennai. Dr Nina Irawati Senior Consultant Head and Neck Surgical Oncology, Dr Soetomo General Hospital Surbaya, Indonesia and Dr Gyan Chand, Professor and head Endoscrine Surgery, SGPGI Lucknow.
Media Coverage :
The event was circulated through mail and social media to various institutes having Head and Neck Resident and fellowship training program.
URL of the event :