World Head and Neck Cancer Day
Seoul, Korea South | 21 Jul 2017 to 21 Jul 2017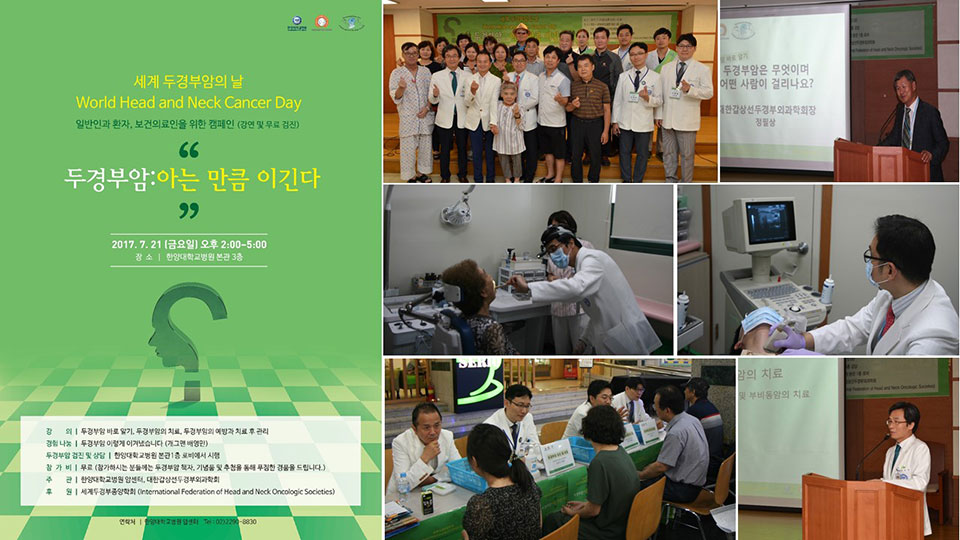 Name of Host : Kyung Tae
Name of Institution : Korean Society of Thyroid-Head and Neck Surgery, Hanyang University Hospital Cancer Center
URL of Institution :
Brief Summary :
Korean Society of Thyroid-Head and Neck Surgery and Hanyang University Hospital Cancer Center jointly held a symposium, a free screening clinic and public awareness campaign on July 21, 2017 in Hanyang University Hospital to celebrate World Head and Neck Cancer Day. The symposium was attended by 250 attendees including patients and their families, general participants, nurse and doctors. The symposium included lectures related to prevention, early detection, evidence based management, and rehabilitation of Head and Neck Cancer, and interactive counselling program for patients and their families. Also a free screening clinic for head and neck cancer was conducted on same day, and several head and neck lesions such as thyroid nodule, glottis leukoplakia, vocal nodules, and parapharyngeal tumor were found. We also made flyers about easy understanding of head and neck cancer and distributed it to participants and some of general public.
Media Coverage :
The event of World Head and Neck Cancer Day was covered in the hospital website, some national and regional newspaper and health media.
URL of the event :