INTERVENTION FOR PREVENTION OF ORAL CANCERS
Faridabad, India | 08 Nov 2020 to 08 Nov 2020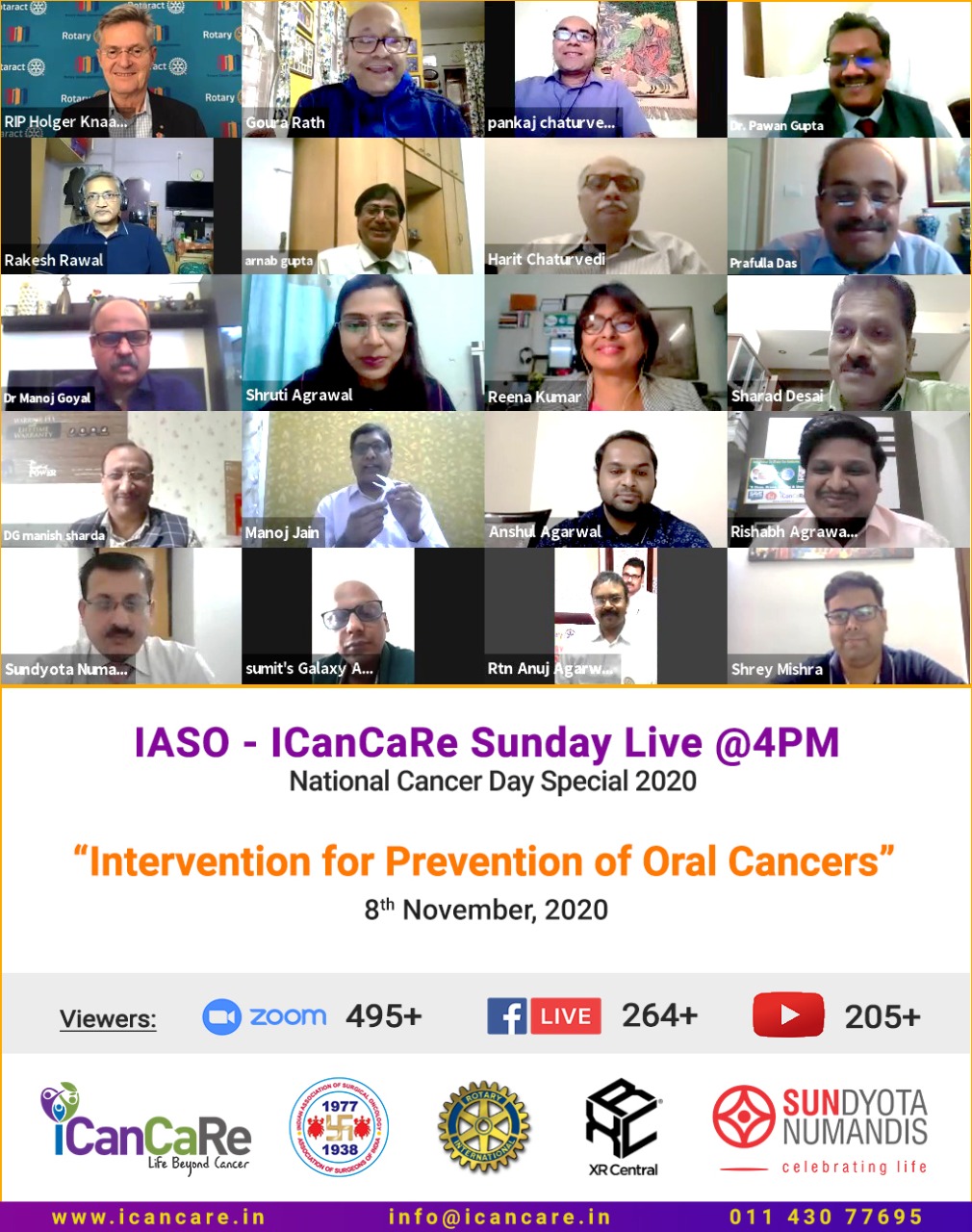 Name of Host : Pawan Gupta
Name of Institution : Pawan Gupta
URL of Institution : http://www.icancare.in
Brief Summary :
National Cancer Day Special by IASO
"INTERVENTION FOR PREVENTION OF ORAL CANCERS"
&
SCHOLARSHIP Quiz for young surgical oncologists
ICanCaRe Sunday Live @4-6 PM
Scholarship Quiz 6 PM
8.11.2020
Registration (free but must)
https://icancare.in/forms/webinar/sundaylive
Join the WA group-
https://chat.whatsapp.com/C7O7jTZp9Pk9NgpHEVEZc1
5 Scholarship to be awarded to the winners of the Quiz
E-Certificate to all participants*Join on zoom for live interaction*
Zoom link- https://rebrand.ly/icancare-zoom
Zoom Id: 859 2660 3584
Passcode: icancare

YouTube Live Link:
https://rebrand.ly/icancare-yt
Facebook Live Link:
https://rebrand.ly/icancare-fb
Media Coverage :
Oral Cancer the king of all cancers in India, a preventable disease. Needs coercive effort of all groups - doctors, dentists, social people and join hands to #SAVEtheyouth.
The program was represented from all the sectors the visionaries Prof G. K. Rath, Dr Pankaj Chaturvedi, Dr. Manoj Goyal, Dr Arnab Gupta. The leader of the Worlds largest Social Group Rotary International President Holger Knack vouched support for the campaign, encouraged and congratulated the Rotary District 3100 DG RTN Manish Sharda and Asst Governor Anuj Agarwal for the initiative.
Multiple products to engage the masses was launched including the Worlds first tobacco games by ICanCaRe, the ORACARE trismus release device and CURINZ the wonder gargle.
IASO-ICanCaRe Scholarship to promote prevention of oral cancer was Instituted and to select 5 candidates a quiz was conduted by Prof P.K.Das.
URL of the event : https://youtu.be/AIyKFIhigvI